Creator/Producer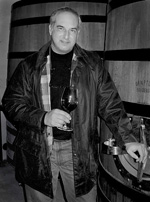 Mark Burns was born in Houston, Texas in 1958. Since he began working professionally as a photographer in the late seventies, his work has appeared in publications around the world. They include Time Magazine, The Sporting News, The Wine Spectator, Wine Enthusiast and Wine & Spirits Magazine as well as many other regional magazines, corporate publications, newspapers and websites. He has photographed celebrities from the sports and entertainment world to the political arena including George H.W. Bush, Bill Clinton and Mikhail Gorbachev to Sammy Davis Jr.
In 1989, on his third trip to San Francisco, Burns visited the Napa and Sonoma Valleys. Having long been interested in wine and food, this visit lured him into moving to the area where he began a family and furthered his interest in wine. To the photographer's eye, Northern California offered a feast of new and interesting diversity. For the time being however, it was the winemaker's art that captured his attention. For several years Burns worked within the wine industry in Northern California building a foundation of knowledge about both the process and the trade.
Returning to Houston in the mid-nineties, Burns devoted much of his time to a small wine brokerage firm he created to represent family owned wineries from around the world. During this period he continued to build lasting relationships within the California wine industry while at the same time exploring the wine business from a worldwide perspective. Traveling throughout cellars in Europe and South America helped him to solidify a broader interest and knowledge in wine.
Today acting as creator and producer of "The Culture of Wine" exhibit, Burns is able to combine his creative skills with his wine industry knowledge and contacts. He still resides in Houston, Texas but spends much of his time in the California wine country working on a variety of exhibit, photography and film projects.